The recent eWeek story regarding U.S. decline in science and technology (see below) is nothing new.  We've heard this same story for twenty years.  But is anyone listening?
http://www.eweek.com/c/a/IT-Infrastructure/US-Losing-Competitive-Edge-in-Technology-Science-National-Science-Board-610257/
Over the Christmas break, I did my bit to encourage passion in software development, engineering, and project management.  I mentored a college student with an Arduio board.  (See http://www.arduino.cc/)  The Arduino is a microcontroller with inputs and outputs for controlling external devices.  It's big in university engineering departments.  Awesome, dude!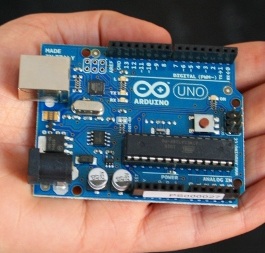 We stayed up past midnight wiring circuits and slinging C++ code to exercise the Arduino I/O ports.  In a rat's nest of wires, LED's flashed, speakers squealed, and relays clattered.  Cool!  When it was over, the kid had a new passion for product development and engineering principles.
Code 'til you drop, and then do it again tomorrow!  That's my answer to declining technology in the U.S.  And I suppose it's also my preferred project management style.